Fred Patrie - Public Servant
Fred Patrie was a hub of public service
Each Monday, the Kenosha News takes a look at the life of a Kenosha County resident who recently died. We share with you, through the memories of family and friends, a life remembered.
BY HEATHER LARSON POYNER hpoyner@kenoshanews.com
"Hub" (noun): "the central part of a wheel, as that part into which the spokes are inserted." Also: "a center around which other things revolve or from which they radiate; a focus of activity, authority, commerce or transportation."
Career public servant Fred Patrie was a hub. At the center of things, Patrie kept things moving along, from facilitating post-industrial regrowth of Milwaukee's west side to championing building projects, bike trails and commuter rail in Kenosha County.
In a 1988 interview with the Milwaukee Journal, Patrie described the life of a public administrator: "You are at the hub of a wheel; there's lots of spokes pointing at you." Patrie thrived in this capacity, said his brother, Paul. "He loved being at the center of forward-thinking people." "(Patrie) was the main cog in the machine," noted Ed Quandt, retired fire chief from West Milwaukee, former interim administrator of West Milwaukee and longtime friend.
On a personal level, Patrie was also the center of his wife's world. "We were soulmates," Melody Patrie said. At 62, after a brief illness, Patrie died on Sept. 6 in his Kenosha home. His survivors include his wife; brothers Paul (Janice) Patrie and Ed (Judy) Quandt; sisters Carol Schmit, Pat (Greg) Keller, Mary (Dave) Wing and Lanny (Lonnie) Knoble; nieces, nephews and friends.
Fred was born Dec. 16, 1951, in Eau Claire, the third-oldest child of Frederick and Verna Patrie. He grew up in La Crosse and received a bachelor's degree in economics and business administration from the University of Wisconsin-Parkside in 1974.
Into the public arena
Patrie stepped into the public arena after attaining a graduate degree in public administration at Kent State University in 1976.
Over the next 15 years, Patrie was an administrative intern in Akron, Ohio; budget and management analyst for the Wisconsin Gas Co.; administrative officer for Southeastern Wisconsin Regional Planning Commission; and village administrator for the village of West Milwaukee.
Melody Fohr met Patrie when she went to work at SEWRPC in 1978. She was taken by his ability to lead by example. The two became friends, marrying on June 10, 1986.
Coming to Kenosha County
In 1991, Patrie began public service in Kenosha County. During his tenure as highway commissioner and later as director of public works for Kenosha County, Patrie oversaw the building of the Kenosha County Center, renovation of the courthouse, development of the Kenosha County Administration Building and the construction of the new Brookside Care Center. "Fred felt government mattered," said his wife. "Serving in a public setting was important to him." "Not only was he competent and dedicated, he was optimistic and upbeat," noted Kurt Bauer, former director of SEWRPC. "Fred brought spring into a meeting."
Adviser, friend
The man behind the desk was also known as a teacher, adviser, nature lover and family man. When Fred was village administrator of West Milwaukee and his brother was assistant to the village manager of Brown Deer, the two met frequently for lunch, and Fred would be a sounding board for his younger brother. Childhood friend Francis Formenek, a council member in La Crosse, reached out to Fred for his expertise in politics and civic economics. "He was my confidant, my brain trust," Formenek said. Neighbor and friend Brian Dorey of Kenosha said Fred often jumped in to help his family, from walking the dog to rescuing them when their car broke down in the rain. Patrie's willingness to share his time was part of his nature, said Melody. "He was everyone's big brother."
Sharing his expertise
Lanny Knoble said she appreciated her older brother's counsel when she lost her job in 2009. Patrie prescribed a road trip for them, during which he gave her life-changing advice about exploring new directions, she said. In the 1980s, he was an adjunct instructor in public administration at Parkside. Among his students was County Executive Jim Kreuser. "Fred was always good at translating information and kept the interests of the public before us," he said.
In his off time, Fred enjoyed touring national parks and visiting Civil War sites. As a community hub, Patrie often engaged with people on several levels. Optometrist and District 1 County Board Supervisor William Grady knew Patrie as an eye-care patient, a colleague in civil service and a friend. Observed Grady, "Fred was detail-minded but also personal and friendly — he had a sense of humor and twinkle in his eye."
Fred Patrie retired as public works director of Kenosha County in June, 2008.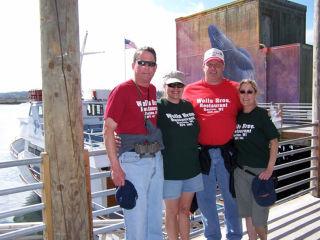 Fred Patrie, far left, vacationing in Oregon in 2007 with his wife Melody and brother-in-law and sister, Lonnie and Lanny Knoble.